---
Let Me Help You Make This Year, Your BEST Year Yet!
AditaLang
Welcome to a NEW YEAR, I don't know about you, but I have big plans for myself this year. At the end of the day the only person who can make us strong and healthy is ourselves, and we have to be willing to take that leap.
If you're not very sure of what I do, or who I am, let's see if I can clarify it for you.  I am a health coach and I love helping others to achieve the best health and wellbeing they can. I have been inspiring others for over 30 years, this is my life.  I started out teaching group exercise classes back when we jumped around barefoot on concreate, stopping in between each song to change the…RECORD!  Yup, vinyl records were my friend, then came cassette tapes, 8 tracks, CD's and now we simply STREAM!! From there I became fascinated with training clients individually with weights, cardio, and flexibility.  And what really made the impact, was when I finished my degree in Holistic Nutrition and blended that knowledge into the training regimes I gave my clients.
Today, I coach individuals, small groups, and also design corporate wellness programs.
I have seen so much, and I have heard every excuse in the book. We all have the ability to have a strong immune system, stay lean, and live with incredible energy.  The question is…are you willing to take the leap?
These past few years have highlighted the need for optimal health.  Keeping our immune system working at its very best is imperative.
Stress, a lack of exercise, eating too many sugars, and exhaustion hamper the immunes systems ability to word of anything.
I would love to help guide you, for as much as we all think we can do this alone, are goals take longer to achieve.  We need that third party that holds us accountable.  Every year I think I can do my taxes alone, I give it a good try, and then I call in the professionals.
The difference between me and other coaches is that I am here to help guide you in the manner that will work best for you.  Some clients need me there all of the time, others just want some guidance and then take off on their own, with a few follow-ups to stay on point.
If you're not ready, and want to try it alone, check out one of my books.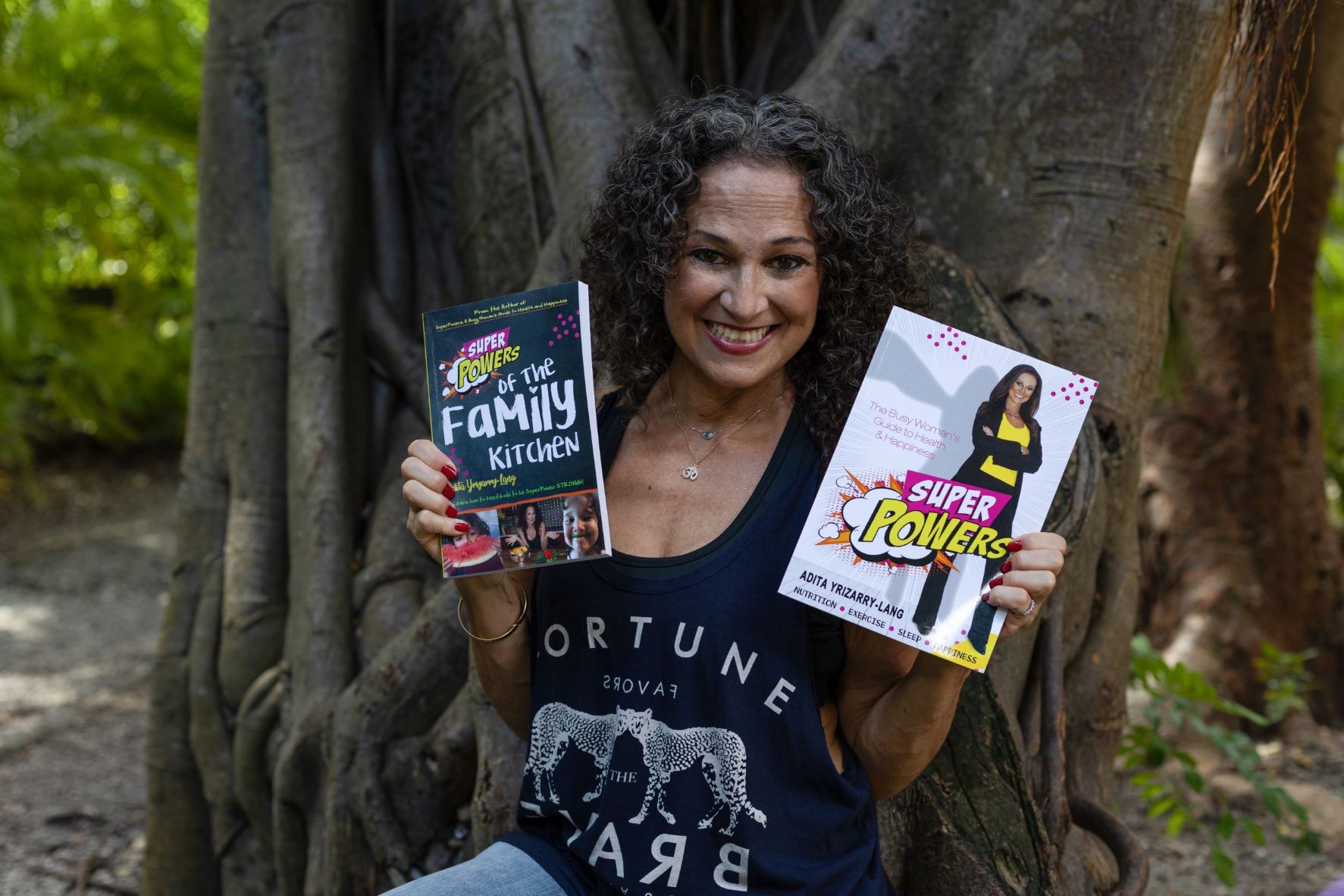 SuperPowers, A Busy Woman's Guide to Health and Happiness
I wrote this book for all the multitasking women that are in my tribe, I offer easy recipes, easy ways to work out, easy ways to eat, and even easier ways of making life grand! 
Keeping the entire family healthy has its challenges.  I wrote this one to help you feed the pickiest of eaters and make the family kitchen a success.  This book is filled with recipes and my top tips and tricks to make this fun and simple!  If you need additional guidance for the family kitchen, check out my program,
Nutritional Brilliance
This on-line class will give you more tips, tricks, and tactics for making meal time easy and keeping the family SuperPower Strong from the inside out!
I truly love what I do, inspiring others simply makes my day. Make it a point to reach out to me this year, and let's see if we can get you on the right path to health and longevity!
With Love and Light,
Adita
Don't forget to SHARE this with all your peeps, we need to spread the love. Thank You!
©Copyright 2023, Adita Lang. Adita Lang works with individuals and groups to maximize their health through exercise and nutrition. She is available for Coaching and Public Speaking.
For questions or booking, please email her at info@AditaLang.com.
For recipes, lifestyle tips, and more visit her at www.AditaLang.com.