---
SuperFood Breading for Chicken and Fish
AditaLang
SuperFood Breading for Chicken and Fish
Watch me cook this recipe LIVE on Facebook HERE
We all like a little breading here and there. Most of the time, traditional bread crumbs provide no real nutrition and metabolize as sugar in our bodies, because of the flour.
Not that this is perfect, but it sure is a great replacement that adds in valuable nutrition, yet satisfies that need for a little something breaded and yummy. BONUS… it's Gluten Free!
Here's what you'll need:
1 Cup Quinoa, raw and uncooked
1/2 Cup Chia Seeds
1 Cup Raw Oats
1/2 Cup Unsweetened Shredded Coconut
1/4 Cup Raw Hemp Seeds
Borsari Original or Celtic Sea Salt to taste
Make it
With the use of a Food Processor, all of the ingredients are in and blended. Add in a teaspoon of salt or seasoning and mix again. You can taste the raw mix to be sure it has enough salt and flavor. Many times I will also add another seasoning to the mix such as garlic, rosemary, etc. Get creative. You can easily make extra, this stores great in an airtight container in the refrigerator for up to a month.
For Cooking – This works great for chicken or fish. I dip it in egg first, then on to the breading (it sticks better this way). Then with just a little oil in the pan, I pan fry it. Now, if you want to be even healthier, cook it in the oven first, and then give it a quick pan fry at the very end.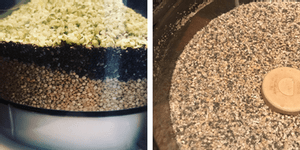 In Peace, Love, and Health,
Adita
Did you make this recipe?
Tag @AditaLang on Instagram and hashtag it #NutritionalBrilliance


©Copyright 2022, Adita Lang

Adita Lang works with individuals and groups to maximize their health through exercise, nutrition, sleep, and happiness.  Programs include Coaching, Speaking Events, and Corporate Wellness. Feel free to email me for more information: 
Info@AditaLang.com